Experience Japanese Teppanyaki at Home
Imagine cooking hibachi style on a Japanese teppanyaki flat-top grill in the comfort of your own home! You can eat with Yaki. The device can be built-in or used as a portable stand-alone device. Integrate it anywhere-your countertop, kitchen table, coffee table or outdoor kitchen in your backyard.
Teppanyaki is a Japanese cuisine cooked on an iron pan. The first part of the word "Teppan" means metal plate in Japanese, and "Yaki" means grilling. In the United States, this is often referred to as the hibachi of Japanese steakhouses. On the Teppanyaki grill, guests sit around a large and flat grill surface. They watch the chef cook the food and sometimes perform cooking skills to increase the entertainment value of the dining experience.
This innovative product provides a new way to cook hibachi style and enjoy a creative dining experience. The unit is made in Germany with an electric smooth top heating plate and a CDS design with patented "shallow immersion" technology to keep the edges cool at all times. There are many integration options and sizes to choose from, depending on where you want to use the unit. You can put it in the kitchen at home or in the backyard, on the terrace, on the balcony or outside the patio.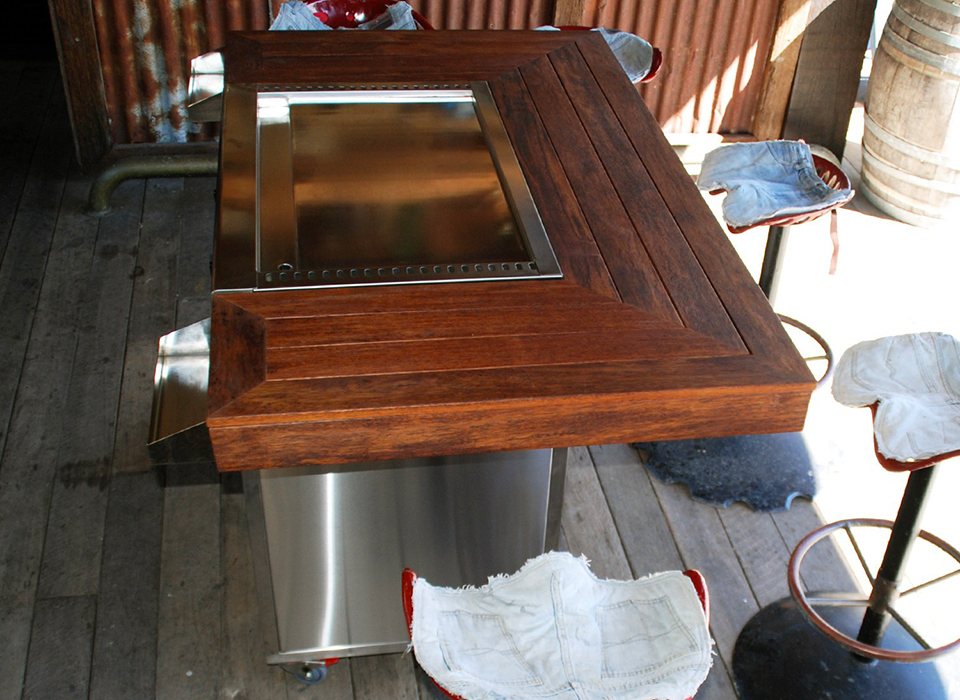 How the Technology Works
1- Culinary Center
When the device is opened, this area will temporarily tilt down slightly to form a concave cooking pit (thermally expands towards the heat source below), which is used to preserve food juices.
2- Heating Area
The heating zone is about 50% lower than the set cooking temperature. A ring approximately 3-4 inches wide surrounds the four sides of the cooking center (circular model: 360 degrees).
3- Dining Area
This area stays cool on the edge of only the table model. On the built-in model, the remaining space near the edge of the desktop will be your countertop space. The edge of the built-in touch surface is up to 50 degrees Celsius. The 1800 watt stove top heating element provides perfect cooking results under 120V voltage. It can quickly grill steak, grilled fish or grilled vegetables.
This can be a very fun way to entertain this summer, especially when used outdoors in your next backyard summer party. Guests can enjoy a variety of healthy foods "hands-on", and everyone can cook together. We would love to try it and send the information to you.